"So where are you off to this time?" asks my flatmate Rhi, looking up from his computer to watch with amusement as I dismantle my bike and attempt (unsuccessfully) to squeeze it into a borrowed Bike Box Alan.
"Asturias. Northern Spain. I'm reviewing the L'Etape de la Vuelta for Cycling Plus",  I reply distracted by the fact that the tires weren't fitting into their designated space in the box.   A keen cyclist himself, he had previously ridden in the Pyrenees and the Alps, his attention returns to his computer.  He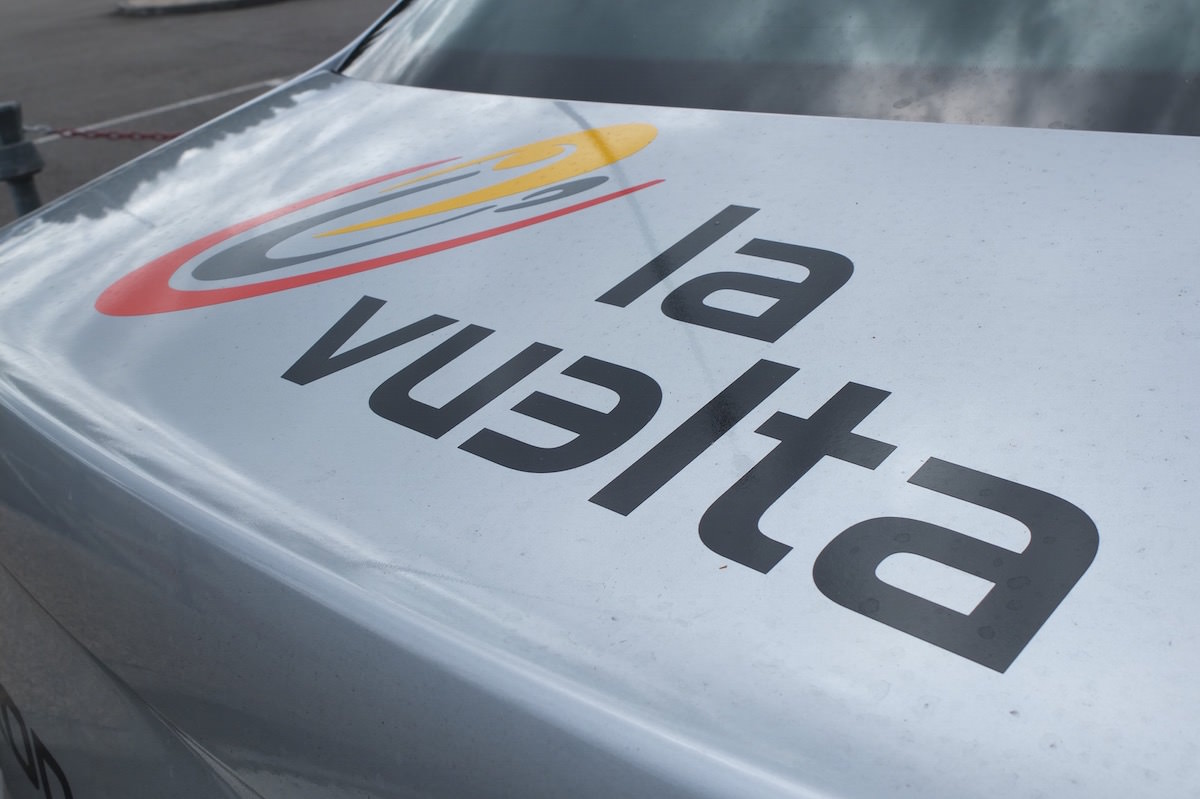 Googles the race and a few minutes later, I hear a series of whistling sounds.
"Bloody hell mate!" he exclaims, "You're not only cycling 180kms, but it's got three Cat 1 climbs and it says here, the last 3k averages at 17%."
He whistles a few more times and then chuckles to himself,  "I hope you've got a compact chain set!'  I solemnly shake my head, as he looks at me with surprise.  "You are going to be in a whole world of pain, my friend!"  he says to me, still chuckling as he wanders off to get a cup of tea.  This is only my second sportive.  I'm already wondering what I've let myself in for…
L'Etape du Tour/ de la Vuelta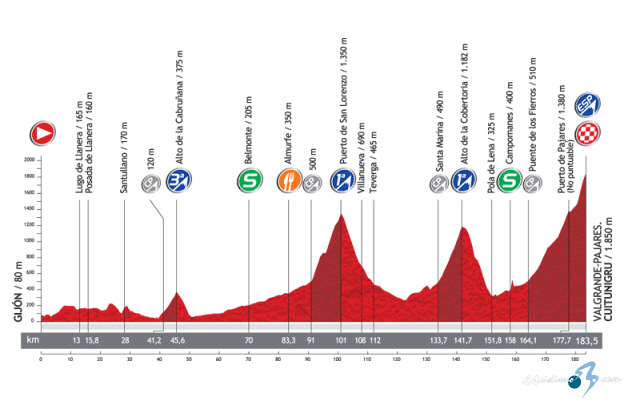 La Vuelta a España, for the uninitiated amongst us, is the Spanish version of the Tour de France.  It starts about 5 weeks after the Tour and is known for it's frenetic pace and tough mountain stages.  ASO, the organisers of the Tour de France and the hugely successful L'Etape du Tour Mondovelo sportive that mimics one of its stages, decided it was time to recreate this formula in Spain's oldest and most prestigious bike race.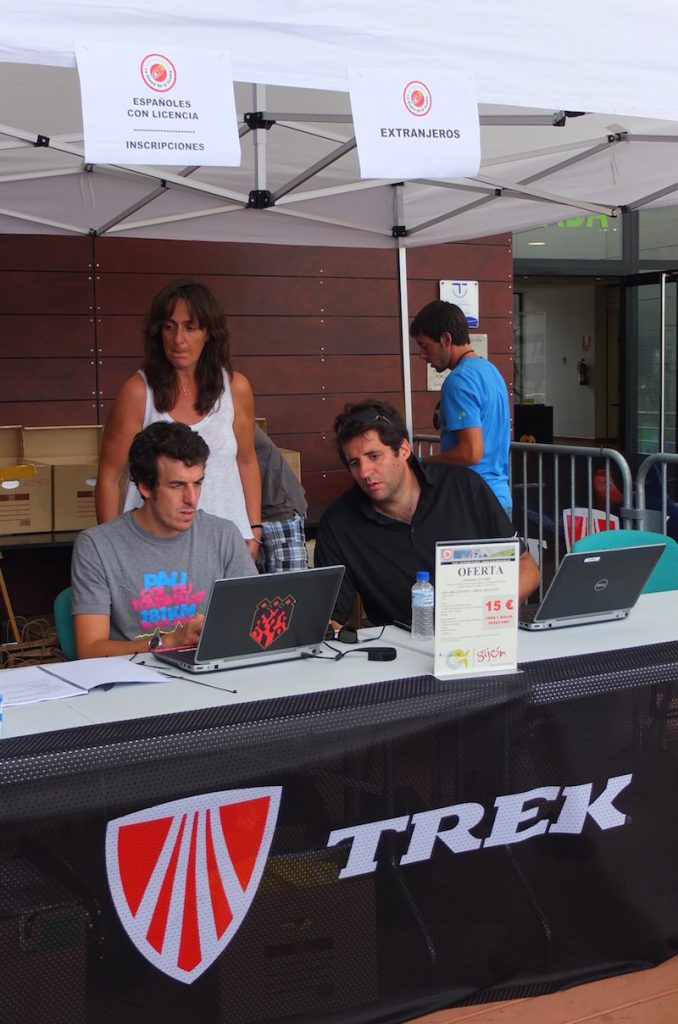 Just like it's French cousin, L'Etape de la Vuelta is a traveling race, with the route changing each year, thereby allowing cycling enthusiasts to experience first hand what the pros will go through before they race it a week or so later.  For their first edition, they had chosen Stage 16 – the 'queen stage' of the Vuelta a Espana.   It would all begin on Friday evening in Gijon, the ancient seaport nestled on the north coast of Spain, in the autonomous Principality of Asturias.
However, just like the French version, you need to plan how you're going to get there, a logistical exercise in itself.  Being an A-B race, you needed to rent a car which you then drove to the finish in Valgrande-Parajes, before getting a shuttle back to Gijon.  Then you needed to register – a surprisingly unceremonious affair, comprising a rickety gazebo and a few members of staff from ASO.   With none of the fanfare and distractions of a big expo selling kit you don't need, there was not much to do except collect a couple of bib numbers for your shirt and bike.
Starting the day right
Someone wise once said that 'happiness lies in a leisurely breakfast'.  That would be wishful thinking, because on descending for breakfast at 6.30 am on Saturday morning, I found myself starting blankly at a row of empty tables, as it appeared the hotel didn't start serving breakfast until 7 a.m, despite having been forewarned of my early departure.
Unfortunately, there appeared to be a touch of 'manaña' about these early morning arrangements and with a rumbling stomach, I felt a slight sense of despair.  However, a kindly Spaniard who looked vaguely familiar, took pity on me and offered a bread roll that he'd found – hopefully not on the floor. I gratefully gobbled it down before rushing out of the hotel to make my way to the start area.
Joining the peloton
One or two wrong turns later, I arrived with 15 minutes to spare, collecting my bib number before joining the back of several hundred resplendent Spanish cyclists, who could quite easily have been competitors from the Vuelta itself.   With their bronzed legs freshly shaven and sporting their favourite jerseys, they were chatting animatedly about the fact that their compatriot, idol and five-time Tour de France winner, Miguel Indurain, was apparently in our midst.  Guessing that he must be at the front, I resigned myself to the fact that the odds of me catching up with him were slim to none.
After a delayed start (no surprise there – this is Spain after all!) we stayed as one peloton for the first 10 kms, thanks to a police escort that kept the roads clear for us.  Indeed, I was  a little surprised, though quietly relieved that we weren't going more quickly, but I later discovered this was because no one wanted to overtake 'Big Mig' who was holding court at the front!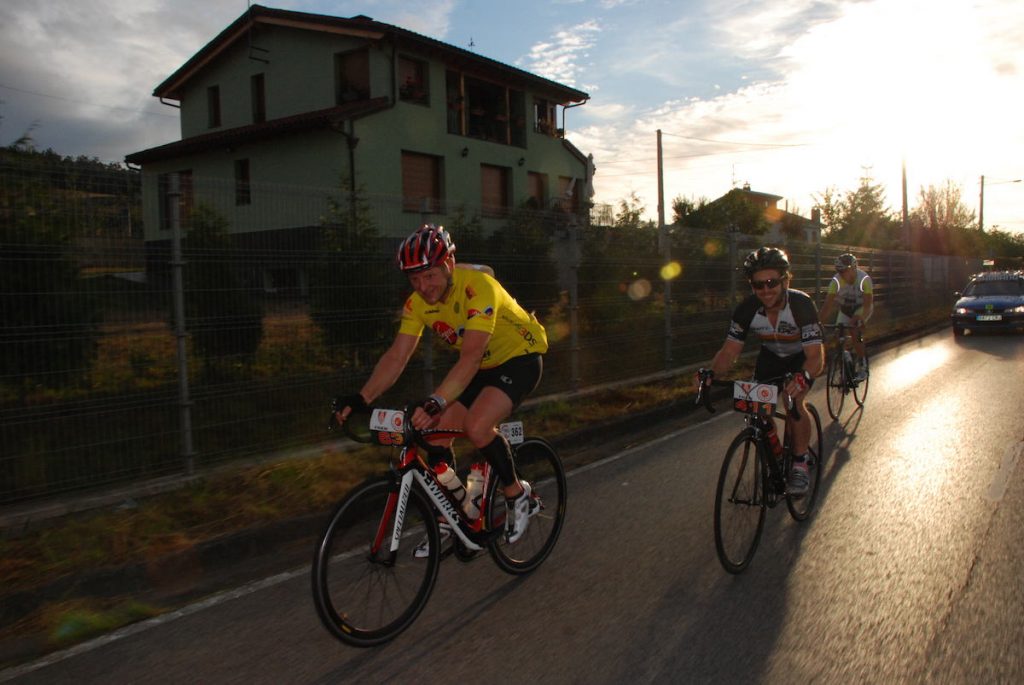 Starting the first 50 kilometers
The first 50 kilometers passed in a blur, as we became lulled into a false sense of security, forgetting what lay in store for us and secretly hoping it wouldn't be as bad as we imagined.  There had been a bit of a nip in the air early in morning, and shortly before we hit the first official Cat 3 climb of La Cabruaña at about 9am, people started shedding arm warmers and gilets as though they had just passed through a leper colony.
Despite thinking that this would have been a good opportunity to stop for a quick comfort break, I stubbornly pushed on, hoping the pain in my bladder would pass.  A little while later, as the peloton started to reform, I was overtaken by the Spaniard from breakfast who'd kindly given me his spare roll.   Encouraging him on with a 'venga venga' of my own, I resisted the urge of chasing after him.  After all, I said to myself, I still had a long way to go.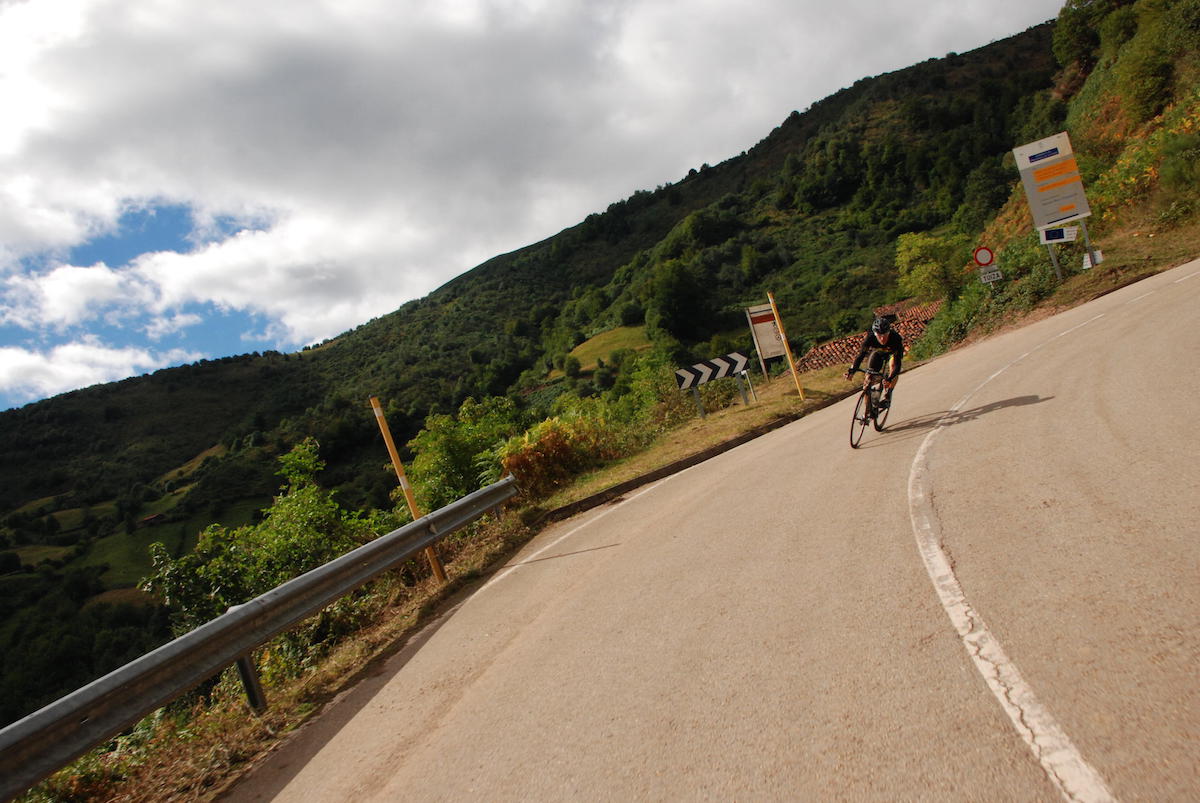 Take nothing for granted!
Having eventually succumbed to nature's calling, a moment that lasted all of 30 seconds, I subsequently spent almost an hour trying to rejoin the peloton.  Picking up a few stragglers along the way, we eventually caught up, only for the peloton to come to a sudden halt a few minutes later at the first food stop, 80kms in.  Unbelievably, we were almost half way there…
Scrambling to fill my empty water bottle from the tiny food stand, whilst over a hundred other cyclists tried to do the same, was more of a challenge than catching up with them.    Replenished and with bananas sticking ungraciously out of our mouths we quickly jumped back on our bikes, forming another small peloton as we headed towards the first big Cat 1 of the day – Puerto de San Lorenzo.
We were making surprisingly good time.  But as the altimeter on my watch approached 500m I knew the easy bit was about to end.   As though on cue, our reverie was broken by the sound of a beep as we turned a corner, simultaneously passing over a timing mat.  There was an immediate grinding of gears and the odd grunt or two as we began a 10km long climb that would average out at 8.5%.
Although it took a little over an hour, it felt like an eternity, as my legs became strangely putty-like.  One, two, three… I counted to myself on each turn of the pedal, trying to distract myself from the pain coursing through my legs as the climb got steeper and steeper, marked by road signs that said 17%.  Rhi's words were coming back to haunt me, as the people I had worked so hard to stay ahead of, slowly but surely overtook me.
At the point I felt like as if I was coming to a standstill, I eventually decided to stop for a rest and walk for a few minutes.  The horror of not having a compact chainset and only 12-25T cassette had well and truly sunk in.  I'm only half way up the climb and the thought of doing another two of these was not filling me delight.
Apprehension sets in
Once I had reached the top of San Lorenzo, I tried to take comfort in enjoying the descent, where at several points I reached a dizzying 50mp/h.  But any reprieve was short lived, as we plunged almost immediately into the next long climb of La Cobertoria, in what felt like a painful reenactment of the previous ascent.  This one was similarly steep, with 692m of climbing squeezed within 8kms.
'I had quickly developed a survival method of walking for 1 minute and then trying to catch up a pair of riders that I'd been repeatedly overtaking.'
I was beginning to get looks of concern from some of the other riders.  When I told them what my gear ratio was, they looked at me with disbelief, unable to comprehend how I had managed to get even this far.   However, I had quickly developed a survival method of walking for 1 minute and then trying to catch up a pair of riders that I'd been repeatedly overtaking.  As soon as I drew level with them, I'd get off my bike and walk another minute, only to then catch them again once back on my bike.
This method of walk/cycle took another 50 minutes for me to cover the 8kms to the the summit of 1182m high La Cobertoria.  A weary glance at my watch told me that I had been in the saddle for a total of over 6 hrs and yet still had almost 50 kilometers to go.
Another terrifying descent, where I dropped 1000m in height in the space of 8 minutes, ended abruptly with another wall.   This time it marked the beginning of the ultimate 20km climb to the ski station of Valgrande-Parajes, averaging out at 6.9%.  If I'd been told that it would take would another 3 hours to cover, I would have eaten my helmet.
Wearing out my socks
'I bet Contatodor won't be walking up here', I wearily said to myself out loud, as I imagined the Spaniard, just over a week from now, idiosyncratically bouncing up this ridiculously steep mountain, hopefully being chased by Chris Frome.
When I finally crossed the timing mat at Valgrande-Parajes, with only Cuitu Negru left to conquer, I wasn't sure if I my body was going to allow me to go any further.   But having come this far, there was no way I was going to let a measly 3kms stand in my way.  Even if I have to walk.
15 minutes later, I look down at the ground beneath my socks and see that someone had kindly written in graffiti – '24%' followed a few meters further on by, 'Duro – muy, muy, muy, muy, muy.'  It's almost impossible to describe what goes through your mind on the final climb to the summit finish of Cuitu Negru.  It is ridiculously hard, even walking up in your socks.
All of a sudden I'm brought out of my reverie by a Spanish cyclist, encouraging me on by  shouting 'Venga! ¡Venga!' as he hurtles past me.  Before I could mutter so much as a 'Gracias' in response, another rider flew past, cheering me on, 'Animo! Que ya falta poco para llegar!'  Spurred on by their words of encouragement, I jump back on my bike for the final 50m to cross the finish line in nine hours and 9 minutes.
A little while later, having managed to recover some of my sense of humor, I catch a glimpse of the the kind Spaniard from breakfast, having his photo taken with a bunch of people.  I ask a passer by who he was.  'Why don't you  know? That's Miguel Indurain of course!'  Bugger!