Ludlow to Wincanton - 122 miles
When we were listening to last night's briefing about Day 7 being perhaps the toughest stage due to the distance and climbing, I was a little worried. My ITB had tightened, causing my knee to hurt on every pedal stroke. I suddenly saw this being a long 3 days.
However, I then visited 'Healing Sue', a sports physio/masseuse who fixed me to the point where I had no more pain. Bearing in mind how infrequently I get a sports massage (can count the occasions on one hand) I thought it quite amusing that I had to ride the length of Britain to sort out my niggles and get some decent treatment!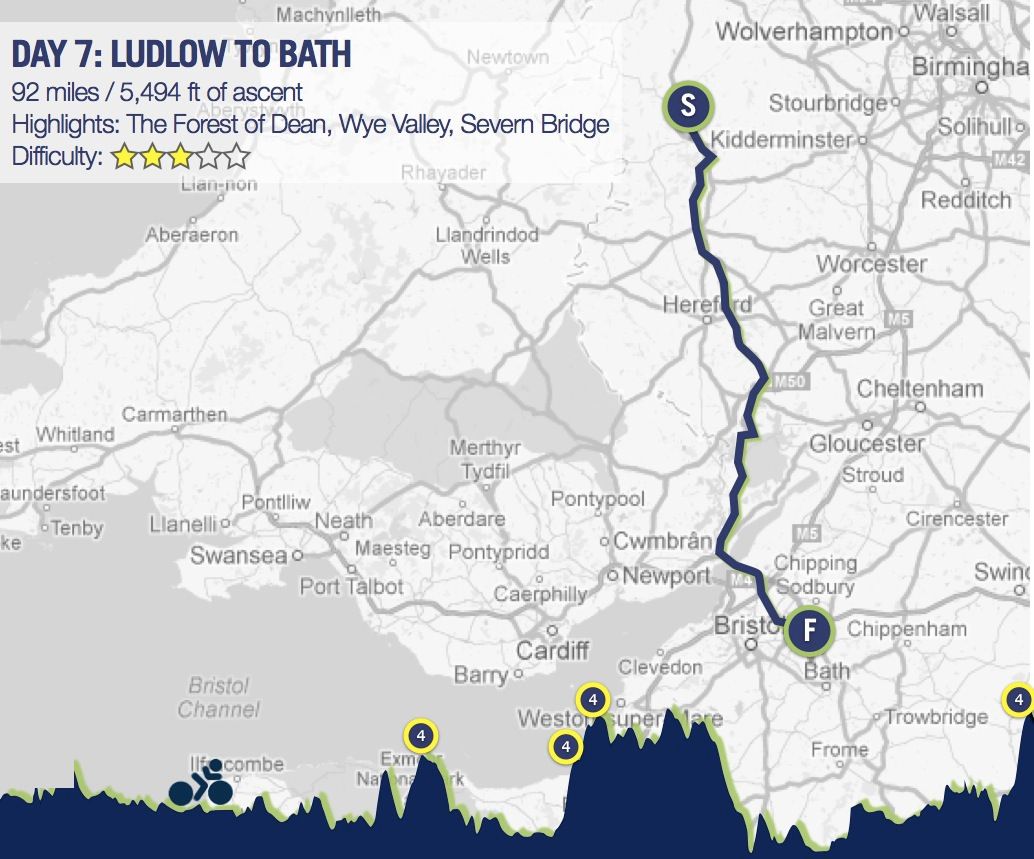 I was going to start at 6am, as I figured it might take me a while to finish. However, a combination of faffing and breakfast meant that by 7 I was still lingering with intent, near the start. The main reason for this was I wanted to ride with a strong group. The group I found, I've now nicknamed the RAB Express.
Led by Chaperone Richard (who happens to be a former British National Time Trial Champion) we went off like a rocket, averaging 19MPH. Many of the groups that had left at 6am, we passed fairly rapidly. And what was even better, was the fact that I was managing to keep up with them - pain free!
However, the pitstops became very short (probably a good thing considering my faffing), which meant that by the time we reached the 3rd pitstop, Threshold had barely erected the station.
Today was characterised by some mega tough climbs, more rain and a very cheeky headwind, that had me in my small chain ring, digging in.
A big highlight was cycling over the Severn Bridge, Clifton Suspension Bridge and passing through the village of my birth, Chewton Mendip. I couldn't quite remember how to find my family home (I'd not seen it since I was 7) so I was content with a photo outside the village pub, the Waldergrave Arms.
I'm now in Wincanton Race Course, which ain't that far away from where I used to live in Somerset, so I feel I'm almost home! It's also pissing down with rain again and the rain hitting my tent is so noisy, it feels like I'm in an oil drum!
However, I can now rejoice in saying that I've ridden 780 odd miles and only have 200 odd to go! Pretty cool, huh?
Tomorrow is going to be another tough day. Slightly shorter at 105 miles, but with a similar amount of climbing, around 8000ft. It should smart a little, although I hope not around my ITB. I visited Healing Sue again and she's totally sorted me out, so I'm happy as Larry in a sweetshop!