I was almost relieved by the time my alarm clock went off at 6am. I had an awful night sleep thanks to the sandstorm battering my tent all night. Plus, it was incredibly hot in the tent – stifling to say the least. I simply wanted to get out of this hot and dusty town and get to our next location, which if rumours around the camp were true, would be in a hotel!
So after a brief breakfast at a nearby motel, we grabbed our pack lunches and hit the road. Because today was going to be a long day. Not just in the distance travelled, but the time on our feet. With 400kms to cover, much of it was unsurprisingly on roads – some of them with beautiful flat tarmac – perfect for cycling on, even better for driving fast on. At times the roads were so straight, they looked as though they had no end – stretching as far as the eye could see. But not all the roads.
We were quite chocked to discover a clump of mud on the road. Thinking this was the Argentinian version of a road block or cone, we slowed down to bypass it, only to come to a sudden stop – the road had been washed away. Gone. It was as though an earthquake had caused the road to drop away. Needless to say, cameras were out quicker than Speedy Gonzalez can eat cheese, as we snapped away like happy tourists.
Back on the road, we continued on to arrive at Valle de la Luna – an otherworldly national park dating back over 250 million years and the resting place of dinosaurs. Accompanied by a guide, we drove through this lunar landscape of giant sand castles and red sandstone canyons. It was quite spectacular, so much so, that I couldn't help but think that this would be the perfect place for a multi-stage ultra or MTB race. Of course, with it being a UNESCO World Heritage site – it's more likely that the sun will fall from the sky. Even archaeologists aren't allowed to dig for dinosaurs here.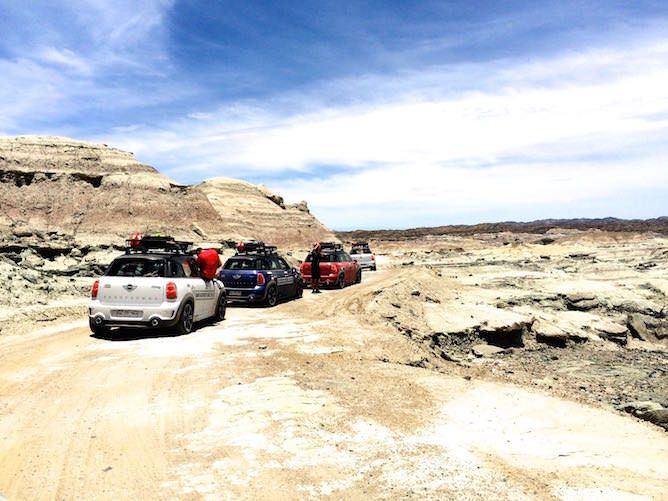 Several hours later, we pop into another park called Talampaya – surely a rival to the Grand Canyon. Although smaller, it is no less spectacular – with the canyon rising over 150m above us. We travelled in open decker overland vehicles – similar to a London Bus, designed for off-road use. After doing an obligatory echo shout, we then headed back towards Villa Union Hosteria, arriving to our delight at a rather lovely hotel called Hotel Canon de Talampaya – complete with a swimming pool, air conditioning, a bed and most importantly, a shower! What more could we as for.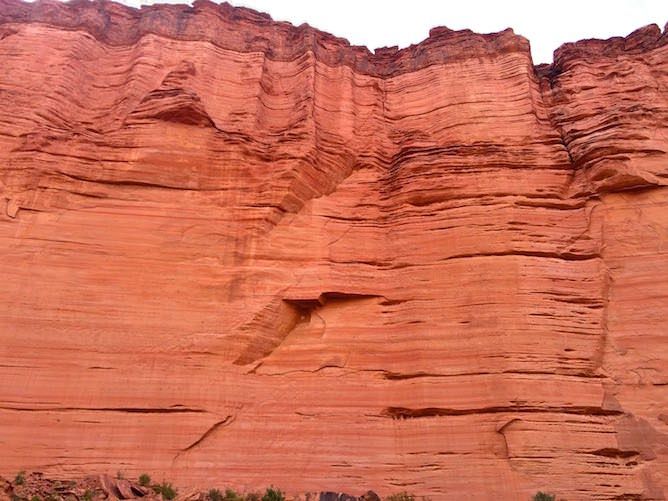 Dinner that evening was in a charming restaurant called la Palmera, sitting next to the famous Union 40 road – one of the longest roads in South America. Most unusual was the fact that it had no floor – rather a sandy red layer. Add water and you'd have mud!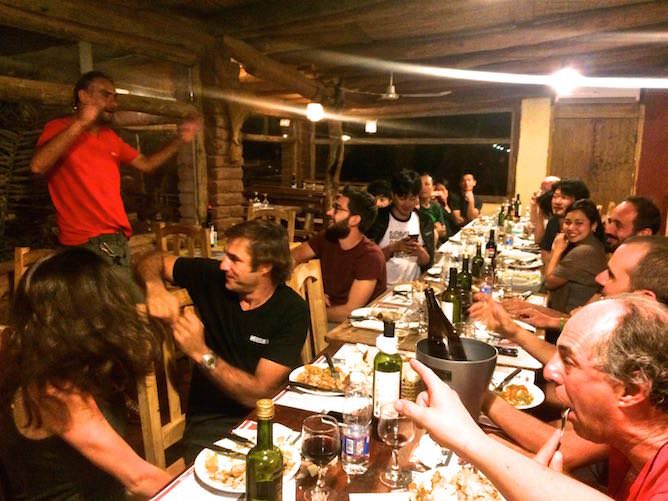 Tomorrow, we're going to meet up with the Dakar Rally and have dinner with the Mini X-Raid team. I love my job!
From Chepes to Villa Union.
Distance driven: 400kms
Number of punctures: 0