There's nothing like brushing your teeth whilst a thousand midges try and help you. Scotland may be a beautiful place and Fort William may be the epicentre for sport in this neck of the woods, but by heck was I grateful to leave the camp this morning.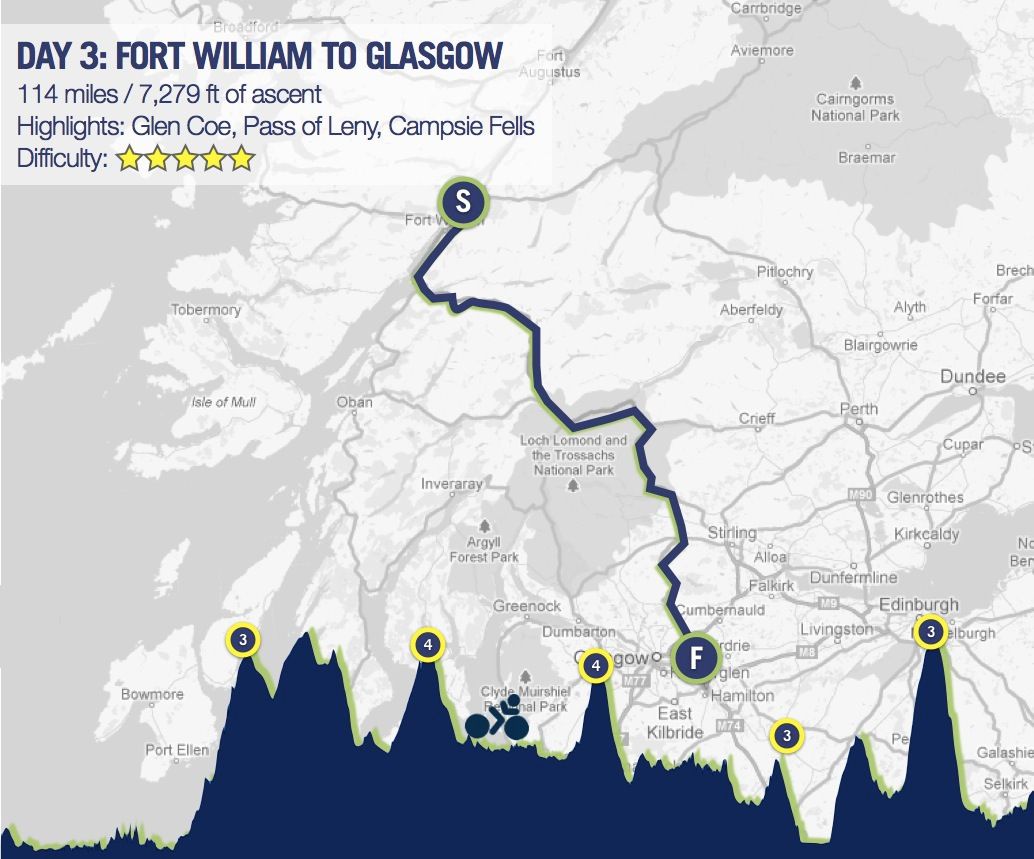 Not event the prospect of riding 116 miles and 7600ft of climbing was enough to deter me from staying. I awoke this morning feeling as though the midges were hammering on my tent flap, trying to get in! Not a happy bunny. And nor were any of the other riders as they waved their hands in front of their faces in a demonic and slightly obsessed manner!
However, once we were on the road the midges were quickly forgotten. The first 20 miles were fast and flat, running alongside Loch Lommand. Unfortunately, it was also rush hour and we had to contend with a decent amount of commuters who must have been cursing the 700 cyclists that were delaying them from getting to work on time.
Threshold had kindly placed a mini checkpoint and food point at the 20 mile point, which was conveniently located before a 1000ft climb that had even the hardcore cyclists breathing pretty hard. Despite their being a bit of a nip in the air, we were pleased to have taken off our jackets as it was hot work climbing.
Once at the top of the hill, we had 25 odd miles until the CP1 - which felt like a very long way away. With a headwind driving us backwards, I was glad to be riding in a group!
And what a great group that was. I was riding with the Martin Imerson, the Team Manager from Halfords and a couple of other guys (Sean and Sheldon) and by good fortune, we were a similar level of cycling and able to share in some good banter!
Some of the Roman roads passed along felt as though they were originals. Bumpy isn't even a word. The Halfords mechanics were working late today, replacing wheels, headsets and creeky bottom brackets that had been rattled loose!
However, riding over the Campie Fells rewarded us with an awesome descent that brought a huge smile to my face, as well as attracting a number of bugs into my wide open gob!
By the time I arrived in camp on the outskirts of Glasgow, I'd been out for 8hrs34 mins which means that I've covered the past 332 miles in 24hrs. It sounds like a long time, but at least 5 hours of that time is probably spent faffing about at the checkpoints, gorging myself on food!
Tomorrow we're heading for Carlisle, which is 104 miles away. We're also heading towards crappy weather as we're being advised to bring rain jackets with us - somewhat annoying!
No midges at the camp tonight, so I'm a happy man! Best get to bed as it's now 22.50 and I've got to be up at 5.30. I'm getting an idea of what it must be like being in the Tour de France. But I bet they don't take 30 mins plus at the checkpoints!