In the past I've had a bit of a love hate relationship with the Brecon Beacons. Whether it's been training with the British Army or running Original Mountain Marathons (OMM), it's almost always been raining and at one point or another, I've strayed for a few moments into Type 3 fun – the one that even in hindsight wasn't fun. But I'm happy to report that today was an exception, less for the rain.
When I think of the Brecon Beacons I think of walking (or tabbing as we like to call it in the Army). But I never thought of it as a place to go mountain biking – until today. Indeed, if the weather had been a bit kinder and that there wasn't so much cloud on the summits, I'd have liked us to have tackled the iconic Fan Dance up and down Pen-y-Fan – which is tough in the summer let alone in the winter. Ask any SAS wannabe who has done the hills phase of Selection and they'll have 'fond' memories of this yomp and a half. However, Dave and I were both happy that we weren't on Pen-y-Fan as it stared to piss down with rain. Because we'd have missed out on this awesome ride today.
So, having read about a 40km classic mountain bike route that takes you up a 600 plus metre ascent to the Bwlch-ar-y-Fan pass, AKA the Gap (Grid ref: SO 03164 20523) – a windswept pass sitting between Cribyn and a rather amusingly sounding Fan-y-Big, we figured it sounded good. Then we read that there's a death-defying descent down a boulder strewn mountain path, we started to get more excited. And when we then discovered that the route, which follows a decent portion of the Taff Trail, practically went past the door of our B&B, the Malt House in Talybont-on-Usk, we knew it was destiny.
Referred to as a 'Red Route' by the Brecon Beacons authority, it's not for novice mountain bikers. Which is somewhat ironic since I'm by no means a die-hard mountain biker myself. I'm fairly strong up hill but rather risk averse on descents, especially where there's a high chance of losing my teeth. Which is complete contrast to Dave. He rides uphill as though he's pulling a parachute and rides the descents like he's got no breaks. We decided that if we were to combine our mountain biking powers, we'd be a force to be reckoned with.

Besides being a 600m uphill struggle for the first half, it also offers fabulous views – the sort that will have you whipping out your iPhone quicker than Jonny Vegas can down a pint. I just hope that you brought a waterproof cover for it.  Having never been to the Brecon Beacons National Park when it hasn't rained, I'm well prepared for soggy phones.
What really impressed me about this route and perhaps the Brecon Beacons in general, is the fact that you can achieve a real sense of adventure without having to deviate too far from the general population. We didn't pass a single mountain biker today. The only other signs of life were the odd dog walker, a farmer and two sheep dogs on their own, one of which clearly mistook me for a sheep and nipped me on the arse. The indignation!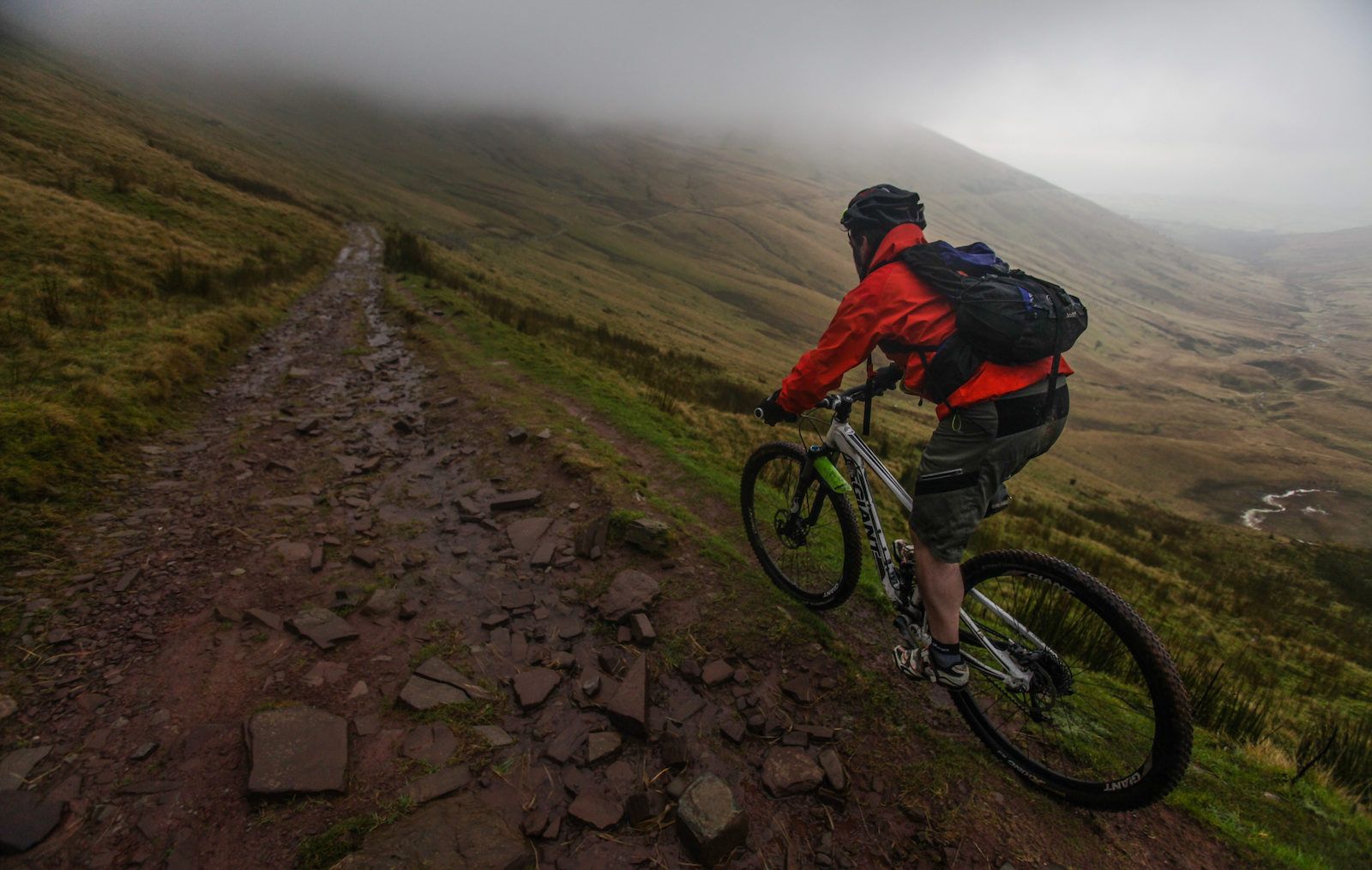 Of course, there are of course plenty of other things to do in the Brecons besides mountain biking and walking. You simply have to look at the national park website to appreciate the variety of activities on offer, whilst asking visitors to 'Be adventurous – to us, it's second nature'. But I'll definitely be back to ride the Gap again. It's just too much fun – providing you don't mind getting wet.
In 2016, Wales is launching their 'Year of Adventure' as part of a tourism initiative to put Wales on the map as the adventure capital of the world. I don't think it will be a hard sell!
You can find Gap route we followed today on Strava or Movescount.
Supported by MINI, Dave and Tobias are touring Great Britain visiting all 15 of our National Parks in 15 days, completing a microadventure in each as they go. You can follow their adventures on Twitter, Instagram, Facebook or simply using the hashtag #MINIActionMan.